Adapt IP assists patent owners including individual inventors, investors and operating companies. Instead of limiting our transaction advisory services to only focusing on technology patents, we focus our efforts on finding quality patents – regardless of industry. Managing patent transactions across a diverse set of industries is more important than ever as industries and technologies converge.
"We are working with Adapt IP Ventures on multiple patent sale projects. Despite limited success with other patent brokers in the past, Adapt IP Ventures has presented offers for the acquisition of multiple patent families. We attribute this success to their complete dedication to these projects, strong relationships with buyers and extensive research capabilities. We consider Adapt IP Ventures to be an industry-leading patent brokerage firm."
"I sincerely value the effort that Adapt IP Ventures put into finding a buyer for my digital download confirmation patent. Their CEO, Grant Moss, exceeded my expectations at all phases of this project, from developing a well-crafted marketing presentation to guiding me through the closing process. In fact, when I have more IP that I need help monetizing, Adapt IP Ventures is the only firm that I will consider."
"After a wasted year with another patent broker, I found Adapt IP Ventures. In a short time, Adapt IP arranged a deal including licensing and litigation, completing patent applications in process, writing a new application, funding product development and building a new website. All of that far exceeded my expectations."
"We retained Adapt IP Ventures to manage the sale of numerous patents related to data security and mobile payments. Adapt IP Ventures was able to generate multiple offers for our patents, but ultimately, the deal structure that we chose allows us to recapitalize our business, pivot our business model and attract new investors. We are truly thankful for the opportunity to work with Adapt IP Ventures on this patent monetization effort."
Technological change is certain and innovation is critical if a business wants to continue to realize value from its assets and efforts. One example of technological change and adaptation is the record player. As the size of the record player evolved, old 45 rpm records could no longer be played as the large center hole no longer fit snugly to new record players. To "adapt" old records to the new record player technology, the former RCA Corporation introduced a snap-in plastic insert known as a "spider adapter" to make 45 rpm records compatible on almost any record player.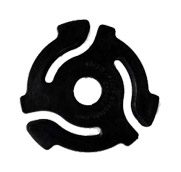 Commissioned by RCA President David Sarnoff and invented by Thomas Hutchison, spider adapters simply snapped into the center of the 7" record. Sales for the device exceeded tens of millions per year.
The lesson is clear and thus the inspiration in creating Adapt IP Ventures. Technological advancement, although sometimes incremental, is critical. We serve as a catalyst to drive growth through the transfer of patent rights. Adapt IP Ventures evaluates and markets complex IP assets to realize financial value for our clients. Our team is technically and financially aligned to maximize the return on your IP investment.